---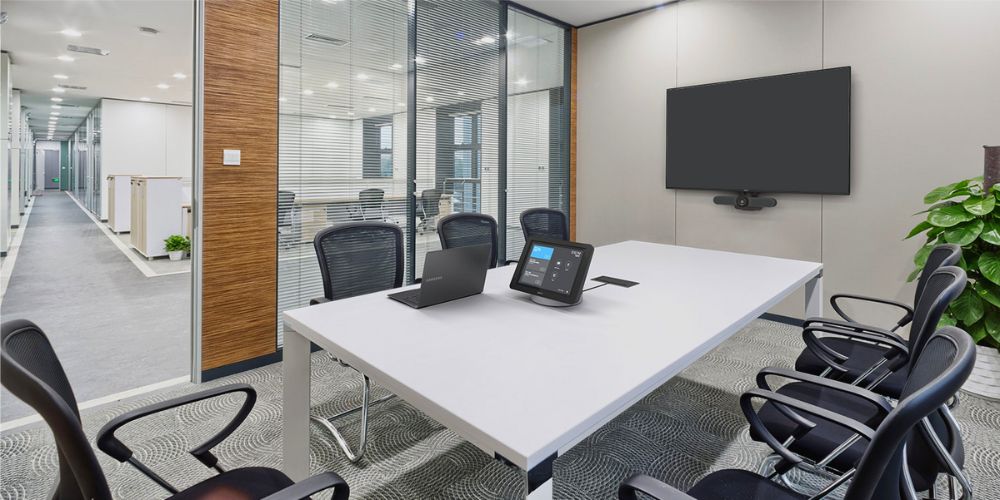 Reasons Why Huddle Rooms are the Future of Collaboration
Every business needs a system that helps employees communicate, coordinate, and collaborate for frequent day-to-day operations. Today, business communication is not limited to a single physical location. Modern businesses tend to have employees and clients in many different geographic locations. And to deal with this reality, companies need communication and collaboration tools that will keep productivity intact.
To run the day-to-day operations of your business, you must have reliable AV systems that allow your employees to communicate, coordinate, and collaborate seamlessly. Communication is no longer restricted to the confines of the office and boardroom. That's why businesses need advanced collaboration tools that will enable remote collaboration.
Over the last decade, there have been significant advances in collaboration technology. These innovations have made individual and team deployments easier, improved interoperability, and enhanced user experience. Huddle rooms are part of this leap in technology. They are the ultimate demonstration of modern collaborative spaces and are beginning to replace board rooms as the preferred meeting place for peer-to-peer communications. Employees need not be tied to their cubicles for important video meets or scramble last minute to find a place to meet and collaborate with remote team members. Installing a huddle room will make such efforts easier.
A huddle room is a small meeting room that can host 4 to 6 people. It is designed to quickly link audio-video with people in and outside the office and organization for collaborative sessions. Every company should invest in this kind of infrastructure. This investment is not just for the present but for the future too.
Here are 5 reasons why huddle rooms are the future of collaboration.
1. They make the most of office space
Big boardrooms as a company status symbol are a thing of the past. No one cares about such aesthetics any longer. You may have noticed that most of the meetings with clients, partners, and other remote employees are through video conferences. And typically, there are only 3-4 people from each side. You don't need the extravagance of a boardroom for two or three people seating. Given the busyness of modern office life and the fact that several employees work remotely, big board meetings are an infrequent thing. Also, conferencing with a customer with a bunch of empty chairs in the background is not a good look for your company.
Installing a huddle room will allow you to minimize futile office space.
2. They save time
With a huddle room, you can do more spontaneous collaboration. Huddle rooms are designed to minimize waiting time to start a meeting. You do not need to go through a whole spectrum of settings and equipment to start your meeting. Huddle rooms are easy to use and manage. Anyone can conduct a meeting seamlessly with the AV equipment in them.
3. They make workers feel included
Huddle rooms are not grand spaces. They are much more compact highly capable workstations that do not make employees feel as though they are on stage. It makes each individual feel connected and involved. These rooms are also quiet, which is critical when you are discussing crucial and delicate matters and do not want interruptions.
4. They allow you to do more with less
Professionals nowadays prefer more flexible and informal work environments. The structures, habits, and aesthetics of the traditional corporate culture are slowly being dismantled. The conventions and technology of the new age are superseding it, and huddle rooms are the answer to the current collaboration needs. Huddle rooms are the perfect space for holding webinars, video conferences, sales presentations, and other critical meetings. You do not need a huge space to set up a huddle room. Indeed, if you are looking for new office space, a huddle room will be perfect for you because you will save a lot. It will allow you to save money on rent without hampering any necessary operations.
5. They save the amount of money you must pay for IT
A huddle room consists of easily installed and managed AV devices. This helps you avoid the expense of rarely used boardroom based AV equipment, which tends to include multiple cameras, speaker tracking devices, and other expensive items. You will probably be able to reduce the size of your IT expenses. And you will be able to set up multiple huddle rooms rather than one big meeting space.
Create Your Ideal Huddle Space with Audio-Visual Professionals, You Can Trust!
If you want to upgrade your huddle rooms with advanced audio-visual technology, contact JVN Systems. For more than 25 years, we have worked hand in hand with thousands of organizations to design and install AV solutions that best fit their needs, preferences, and budget.
JVN Systems offers complete huddle room audio visual solutions, including high-quality video conferencing systems, interactive displays, wireless presentation systems, sound reinforcement systems, and more. We work closely with our clients from the initial consultation to the final installation to product training. We use the latest and most advanced technology from leading brands in the industry to ensure that your huddle space is fully functional, meets your expectations, and is future-ready.