---
Types of Software Your Hybrid Workforce Absolutely Needs
WHO ended the global emergency status for COVID-19, and it is no longer considered a public health emergency of international concern. Lockdowns and other restrictions have been slowly and steadily lifting, and people are starting to get back to their old lifestyle. But in the world of work, the latter has been altered considerably. The pandemic demonstrated the possibility of working productively from home. It has caused many people to demand this flexibility, which has led to the increasing prevalence of the hybrid workforce.
Any company that wants to recruit and retain the best talents would have to adjust to this new working style. This new way of working requires companies to adopt audiovisual equipment and software that meet the needs of a hybrid workforce. Companies should consider purchasing and installing these types of AV software for new ways of working:
1. Secure Video Conferencing Software
It is not enough to install the latest video conferencing software. The latter must be secure. As more and more business activity moved online in the pandemic and post-pandemic world, the security vulnerability of video conferencing was exposed. Hacking and phishing scams abound, and if your equipment is not protected, you may end up with compromised client-employee data or have vital trade secrets stolen.
Examine your current video conferencing system to ensure
It meets your organization's goals
It enables collaboration
It is easy to use
It is operationally secure
And most importantly, people should be able to set up video conferencing calls on short notice without too much difficulty and without putting personal or corporate data at risk.
2. Room Scheduling Software
A hybrid work environment means that people will work part of the time at home and part of the time in the office. And to ensure smooth operations during in-office meetings, it is essential to employ room scheduling software. This software helps eliminate common issues such as double bookings, room hoarding, and wasted time due to last-minute cancellations.
It should not take an IT expert to use room scheduling software. Any of your employees should be able to see what rooms are available and schedule one for their meeting. The software you use should also automatically update rooms as they become available.
3. AV over IP
The transmission of audiovisual data over a LAN, WAN, or the Internet is a trend that is unlikely to fall off anytime soon. More and more people have access to the Internet and their organization's LAN through a downloadable portal. No doubt your people are in the same position and will want the ability to send AV data through these channels.
There are significant advantages to adopting this technology. They include:
Simplifying wiring and routing of audio and video signals
Reducing the cost of equipment and installation
Easier to upgrade
More flexibility in adapting to new technology standards
4. Remote Engagement Software
With so many employees working offsite at any given time, there is a pressing need to communicate with them and keep them actively engaged during working hours. Remote employee engagement software helps the company achieve this.
There are a great many remote engagement software products available for the task. Kazoo, Lattice, and Clarizen are a few of the many brand names in this line. These soft-codecs are designed to engage with employees, create productive and cohesive virtual teams, help employees set and track goals, keep employees motivated & updated about their organization, and provide everyone with real-time analytic insights.
Thoroughly evaluate any software you are considering installing to ensure it meets your expectations. Every organization has its own structure, processes, and culture, and the software should complement them. The way your team works may be different from how other organizations operate. Choose the software that integrates well with your team rather than forcing your team to adapt to overly complex or counterintuitive software.
Why You Should Work with JVN Systems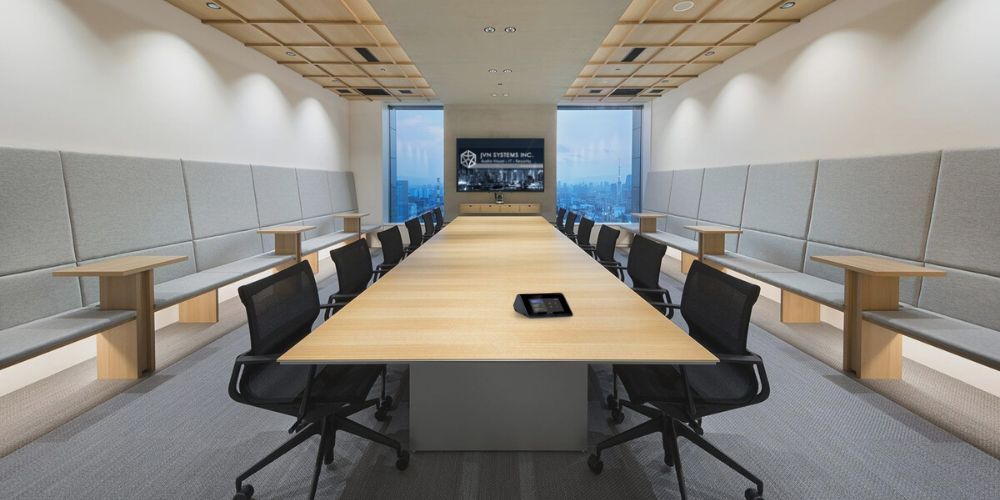 Audiovisual software can help increase employee productivity in a hybrid work environment. However, your software is only as good as its adoption. You must select the most adaptable software solutions for the unique needs of your enterprise. JVN Systems can help you do so.
With over 25 successful years in business, JVN Systems has proven to be a trusted technology partner for all kinds of businesses. Our highly trained staff is experienced and capable of delivering high-quality solutions in a manner that takes complex requirements and provides our clients with an intuitive and streamlined user interface. Our goal is to exceed client expectations in terms of system performance, value, reliability, and ease of use.
JVN Systems designs, deploys, installs, supports, and services audiovisual solutions focused on how teams work. The systems we design and implement for our clients support distance collaboration, which is vital in today's workforce structure. This mindset is what sets us apart from other AV integrators that are still predominantly focused on room equipment rather than the dynamics of the people utilizing the room, including those people collaborating from elsewhere.
Recommended Posts