---
5 Essential Audiovisual Components for an Effective Conference Room
The world of work has changed significantly over the last year or so. The pandemic transformed the relationship that most people have with their places of business. To encourage, support, and retain all the stakeholders in your company, you need the right meeting room technology. You must seamlessly connect customers, partners, and employees together, no matter where they are located. Here are some of the key components for creating an immersive conference room experience.
1. High-Quality Display Screens: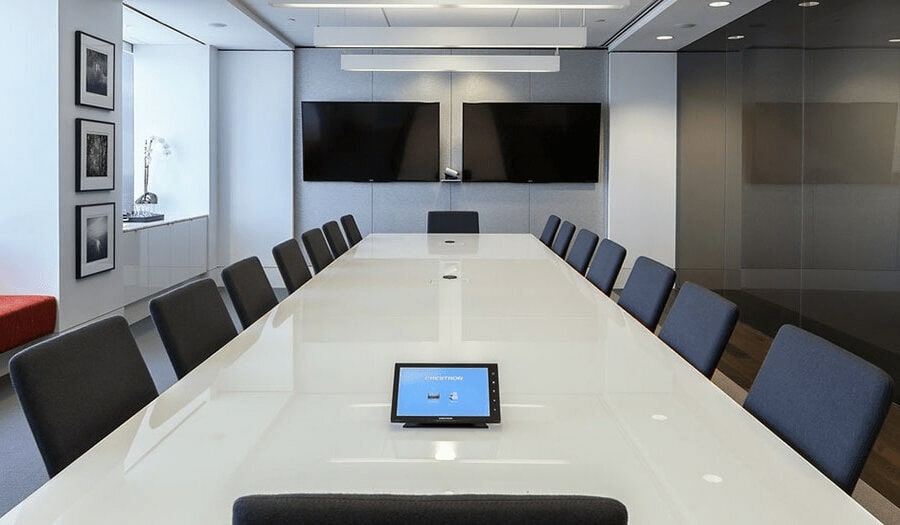 The display screen enables you to see your colleagues in other locations. It also allows you to present and see presentations, graphics, and other bits of visual material. The quality of the display screens you have installed matters, as they are one of the main collaborative tools in any meeting.
You should install multiple screens for versatility. Having two or three displays in your conference room will enhance content sharing ability.
Size also matters. The size of your screen should depend on the size of your conference room. Although single displays can be used in a small conference room, dual displays are much better. Dual or triple displays are ideal for companies that engage in frequent video-conferencing, as they allow screen sharing and the simultaneous presentation of content and the people on the call.
2. Professional Audio Systems:
You should invest in high-quality speakers and other audio equipment. There is nothing more frustrating and time-wasting than a low-grade or choppy sound on a call. The people you meet should hear clearly every word said by every person who speaks. Microphones and speakers are critical components of a conference room AV system. You can install them on the ceiling, on the table, or on a sound bar below the display. Having these pieces of equipment will ensure clear and seamless communication during the call.
Before purchasing and installing the audio system, you must assess the room's acoustics and customize the audio system to suit the space. The right arrangement will eliminate echo, feedback, and other distracting noises during a call.
3. Video Conferencing Solutions:
There are plenty of video conferencing solutions on the market. Nearly all have enhanced their capabilities since the pandemic. Zoom, Microsoft Teams, Google Meet, Poly, Cisco, and LifeSize all offer conference room solutions. You should choose a platform that is robust and reliable. You will also need to select one that all your regular participants have. In some instances, the person you need to be part of the conference may use a different platform, so you may need to figure out a work-around ahead of time. Indeed, many companies and organizations use web conferencing technologies.
The important thing is to use a platform that has collaborative tools such as screen sharing, chat, and document sharing features. You should also install HD cameras in your conference room to capture high-quality video for remote participants.
4. User-Friendly Control Systems:
The control panel is the only means by which you can control your conference room's AV system. You should install a rationally designed and easy-to-use panel that anyone can operate. This last point is key. You should not have to depend on your IT or tech support department to operate AV equipment. Anyone should be able to work in the conference room and organize a video meeting.
The control system should be intuitive enough for easy management. The audio, visual, and lighting controls should be contained in one interface. Any one of your employees should be able to launch a presentation, and they should be able to transition from a screen sharing presentation to video conferencing with a single touch.
You will need a control system that can be programmed by non-technicians to work with all the equipment in your meeting room, including displays, microphones, speakers, cameras, wireless screen sharing, and other items. Your people should also be able to tailor the control systems to suit specific conference room needs.
The bottom line here is that your company should be able to operate the control panel of your conference room AV system without a standing tech department.
5. Connectivity and Network Infrastructure:
You can have the best AV equipment on the market. This will mean nothing if you cannot establish and sustain connectivity. You must ensure stable Internet and network connections.
Although some offices still use wired connections, most people prefer wireless connections because they eliminate the clutter of cords. However, wireless connections are more vulnerable to outages. It is possible to insert Internet cables into your conference room tables as a back-up. This is a way to conceal wired connectivity. It will also give you peace of mind.
You should also build an advanced network infrastructure in your conference room. You should have table boxes that include electrical outlets for charging devices and USB ports for plug and play.
You also want to future-proof your network infrastructure. You should install the kind of system that is easy to scale up and upgrade.
Conclusion:
The most effective way to elevate the quality of your conference room collaboration is to install the essential AV components discussed above. This will create the kind of immersive environment you need for effective communication. When looking for the right AV components for your conference room, experience, expertise, and competence matter. With over 25 successful years in business, JVN Systems has proven to be a trusted technology partner for our clients. Our highly trained staff is experienced and highly capable of delivering high quality solutions in a manner that takes complex requirements and provides our clients with an intuitive and streamlined user interface. Our goal is to exceed client expectations in terms of system performance, value, reliability, and ease of use.