---
The Benefits of Integrating AV Systems in Conference Rooms
Meetings are an essential part of the business world and any company's everyday working. The recent pandemic has changed the way that most companies conduct meetings. The inability to gather in large groups over a period of two years led to a significant increase in virtual meetings. This in turn led to the proliferation of audio visual conference equipment.
People are back in the office, but companies have discovered the benefits of high-end AV solutions for conference rooms. Optimizing your conference room AV setup can help you get the most out of your conference room equipment. Properly integrated conference AV systems can improve communication and collaboration, enhance your presentation capabilities, produce time and cost savings, and ensure flexibility, user-friendly interfaces, and security.
Improved Communication and Collaboration
Conference rooms are no longer the large and grand spaces they used to be years ago. They are no longer confined to one static space in the office with fixed hardware and devices. The new norm is to designate certain huddle rooms that can be used for spontaneous, informal meetings that can better facilitate the needs of office-based teams and remote participants.
AV systems can facilitate seamless communications in such rooms by providing high-definition conferencing, clear audio, and interactive displays that transcend geographical barriers. This will make it easier to raise issues and concerns, review data and analysis, and make sound decisions. A well-integrated AV system makes for more productive and effective teams.
Enhanced Presentation Capabilities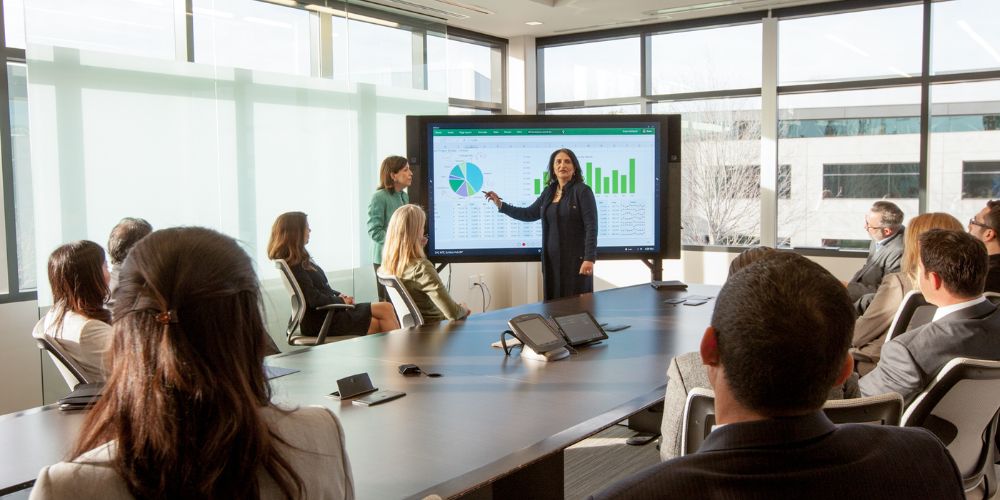 AV systems provide presenters with the multimedia tools they need for effective presentation. Whether your teams are presenting to their colleagues or a prospective client, it is important to make a good first impression. Doing so will engage the attention of the audience, and it will instill confidence in stakeholders. Using an AV system will also reduce the need for travel and the time and expense that comes with it.
To get the most out of your AV systems, you will need to pay close attention to the quality of the following:
1. Displays and Screens
The display is the visual aspect of your conference room AV system. It will be one of your main collaboration tools. The display will allow you to see colleagues in other locations, view presentations, and share screen content from laptops, tablets, and smartphones. You should pay particular attention to the bandwidth, as it can impact image quality.
A single display is an option. But most businesses opt for dual displays. It is best to choose the latter if you run frequent meetings with large groups of participants.
2. Sound
Your AV system will come with a sound bar. This is a long, narrow, and very wide loudspeaker with a low enclosure. The best sound results are achieved by mounting the sound bar below the display devices.
If you use huddle rooms—and most businesses are migrating to this arrangement—you will find that soundbars are a cost-effective alternative to stereo sound systems. They are much easier to move and they significantly improve the audio quality in your conference room. You should also have microphones to enhance voice quality.
The audio set-up can reduce echo, feedback, and other noises for conference participants.
3. Camera
The camera is also an important piece of equipment. You should consider using a camera with a 180-degree viewing angle. Even in a huddle room, the camera's viewing angle may be too narrow, which means that some people may be left out of the field of view.
4. User-Friendly Interfaces
The control panel is an essential element of your AV system. As the name implies, it acts as the control center for the entire system.
You must ensure that your AV system has intuitive controls. A user-friendly interface will help people unfamiliar with these systems to operate them without extensive training. It should be easy for any user to connect to video calls, launch presentations, or transition from a screen-sharing presentation to video conferencing in a single movement.
Flexibility in Meetings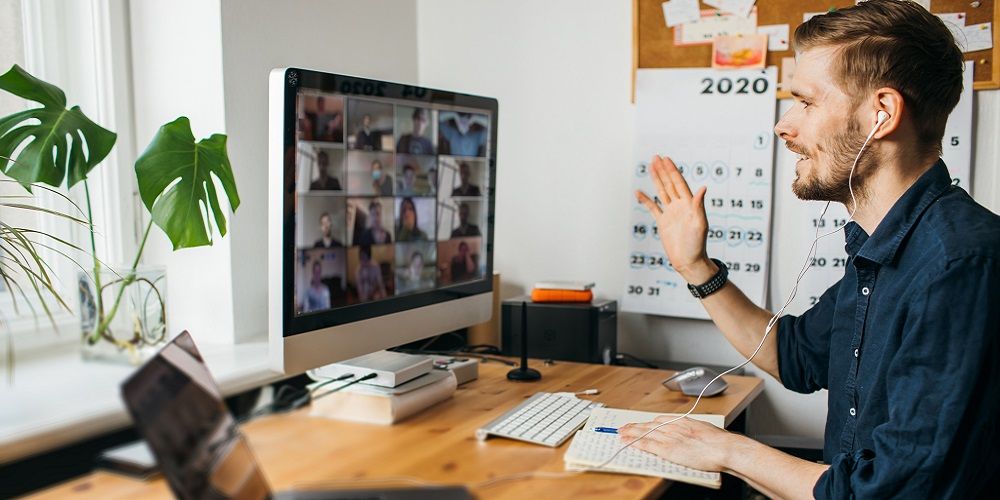 One of the great things about AV technology is that it can be easily integrated with other collaboration tools. This can provide tremendous flexibility during meetings.
Whereas before, everyone who attended a meeting was limited to the devices and equipment in the conference room. Employees can now bring their own devices to such meetings. It is possible for meeting participants to use laptops, mobile phones, tablets, laser pointers and other devices to convey key points during a meeting. They can instantly share content on the conference room display screen, which can reduce the time needed to review material and make critical decisions.
This also has a knock-on psychological benefit. Employees who have the freedom to use their own devices during meetings will be more motivated to actually attend and actively engage in such sessions.
Security and Privacy Considerations
The enhanced digital features of modern AV technology pose security concerns. It is possible for hackers and digital thieves to access private information through your AV system. For this reason, you must put into place secure communication protocols and encryption. The implementation of a new AV system should come with data protection regulations.
You should also establish a proactive monitoring and management process. This will help optimize user experience. Keep in mind that the failure of even a single component can lead to poor quality connection and downtime.
An AV Partner You Can Trust
Installing a top-quality AV system in your huddle rooms or conference rooms will enhance the performance of your teams and save your company's money. It is one of the best ways to enhance communication and productivity.
To get the best AV system arrangement for your meeting spaces, you will need to work with professionals.
With over 25 successful years in business, JVN Systems has proven to be a trusted technology partner for our clients. Our highly trained staff are experienced and highly capable of delivering high quality solutions in a manner which takes complex requirements and provides our clients with an intuitive and streamlined user interface. Our goal is to exceed client expectations in terms of system performance, value, reliability, and ease of use.
JVN Systems designs, deploys, installs, supports, and services audiovisual solutions focused on how teams work. The systems we design and implement for our clients support distance collaboration which is vital in today's workforce structure. This mindset is what sets us apart from other AV integrators, still predominantly focused on room equipment rather than the dynamics of the people utilizing the room, including those people collaborating from elsewhere.