---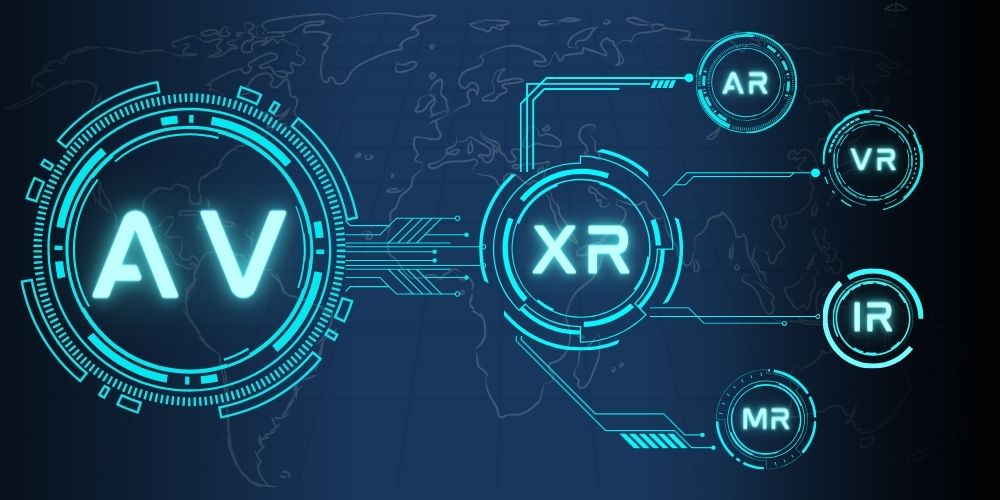 What is XR and How Does it Relate to AV Solutions
The rapid advancement of technology over the last decade has not only led to increased efficiencies but also to changes in the way that people engage with reality itself. XR technology, widely known as Extended reality, is an umbrella term that consists of Immersive Reality (IR), Virtual Reality (VR), and Augmented Reality (AR) technologies.
XR is no longer confined to the tech geeks' circles. The applications of these various technologies have expanded considerably over the last decade, and they are now part of the Audio-Visual suites of many modern businesses. As XR technology has advanced, the cost of purchasing the hardware and software associated with it has come down. This makes it possible for nearly any merchant to integrate XR technology into their AV operations.
But before you decide whether to make this investment, it is essential to understand the main features of the three types of XR.
Immersive Reality (IR)
IR refers to environments that present 3D content using off-the-shelf display technology, such as large video walls or wrap-around screens. This technology is not literally immersive, but it can provide extraordinarily graphic, detailed, and potent shared experiences among multiple viewers, especially if it is used on a large screen.
IR also enables basic interaction among participants through a mouse and keyboard. One of the great benefits of IR technology is that it is flexible enough to accommodate a range of intended uses.
Augmented Reality (AR)
Unlike IR, AR actually does provide an immersive environment. Using the prescribed devices—in most instances, a head-mounted display—AR sinks you into computer-generated images that augment your reality. AR images can also, if you prefer, be placed or projected onto objects in physical spaces.
The chief benefit of AR technology is that it allows for a more prolonged immersion. It is not as disorienting as some of the more advanced VR devices.
This technology is becoming increasingly popular in the construction management, facilities, and equipment maintenance industries.
Virtual Reality (VR)
VR is the reigning king of immersion technology. VR puts users in a new completely computer-generated world. In VR, you can interact with your surroundings at a greater level than the aforementioned XR technologies. The objects and figures you see and interact with seem more real.
VR provides unprecedented levels of depth, complexity, and sophistication. You can teleport inside a molecule, proposed building design, or any other environment. To experience VR, you will need head-mounted displays, large-scale video walls, and a fully immersive custom-configured CAVE system. All this is required to feel the bodily presence in the virtual environment.
A range of tools allow intuitive interaction within the VR program.
Mixed Reality (MR)
MR merges the physical and digital worlds. Users experience real sensations as they interact with the digitally-generated figures and objects in a virtual setting. The coalition of cameras, speakers, sensors, and AI-enhanced technology processes creates a highly enriched virtual experience. The extensiveness of the digitally-created reality produced in this environment is quite impressive. To get a clearer picture, imagine a digital space that matches a real-world space in every detail, feature, and dimension.
Numerous industries now regularly use MR technology. It has been used to test manufacturing techniques, emergency preparedness training, military training, healthcare procedures, and many more places.
XR as an AV Solution
Just because it is the newest AV tech on the market doesn't mean your business needs it. Each cost your business incurs should be an investment in its future growth. The same goes for XR technology. Consult with your AV consultant to consider which XR technology can be integrated into your AV suite and will make the most difference.
Using XR technology can enhance the ability to communicate and coordinate your employees and their activities. It can help your company increase productivity and efficiency. It can serve as a catalyst to make your meetings more efficient and fruitful.
One of the most critical elements in any business is figuring out ways to maximize productivity with the ever-evolving technology. XR technology can make it easier for the various teams in your business to meet, explore ideas, and experiment with new plans, concepts, outlays, and products.
XR or not, your technology partner plays a pivotal role in integrating the right audio visual solutions for your meetings. JVN systems have been doing all kinds of AV integrations for more than 25 years. We have maintained a core philosophy of valuing engineering approach to deliver a meeting room setup that increases efficiency, productivity, and security.
This sets us apart from other AV integrators. Contact us if you want to modernize your meeting room.
Recommended Posts